In our portfolio you can find all types of lighting, from decorative lamps from famous designers to industrial lighting for your office space.
How The Bathroom Lighting Zones Are Broken Down
When thinking about lighting for your bathroom it is important to think about the below Bathroom Zones, to ensure the lighting you want can be installed in your desired location.
Zone 0 is inside the bath or shower itself. Any fitting used in this zone must be low voltage, (max 12v) and be rated at least IP67 which is total immersion proof.
Zone 1 is the area above the bath or shower to a height of 2.25m from the floor. In this zone a minimum rating of IP45 is required but it is generally accepted that IP65 is to be used. It's also worth noting that most shower lights are rated at IP65 in any case.
Zone 2 is an area stretching 0.6m outside the perimeter of the bath and to a height of 2.25m from the floor. In this zone an IP rating of at least IP44 is required. In addition it is good practice to consider the area around a wash basin, within a 60cm radius of any tap to be considered as zone 2.
Outside Zones is anywhere outside zones 0,1 and 2 (subject to specific limits) and where no water jet is likely to be used. There are no special IP requirements in this zone, however we suggest that you consider a light with an IP rating of at least IP20+.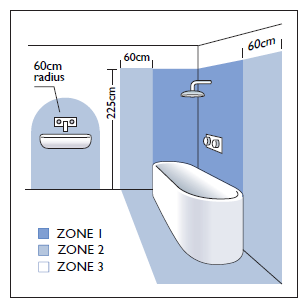 A color rendering index (CRI) is a quantitative measure of the ability of a light source to reveal the colors of various objects faithfully in comparison with an ideal or natural light source. ... TheCRI is determined by the light source's spectrum.
The Color Rendering Index (CRI) is a scale from 0 to 100 percent indicating how accurate a "given" light source is at rendering color when compared to a "reference" light source. The higher the CRI, the better the color rendering ability.